Seismic profile along the Strengbach !
Under the leadership of Marie-Claire Pierret, the OZCAR post-doc Sylvain Pasquet brought the CRITEX seismic equipment to the Strengbach CZO. Three 286-m long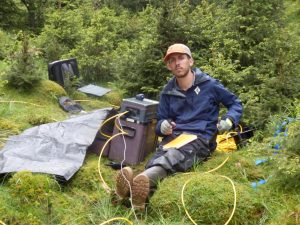 seismic profiles were acquired during the three days of this campaign. They will help characterizing the regolith thickness on the North and South facing slopes and in the bottom of the valley, with the aim of improving the understanding of the hydrological functioning of the watershed. Many thanks to Marie-Claire, Hélène, Quentin, Sylvain, Benjamin and Matthias for their invaluable help in the field.